Table of Contents
das Rezept (-e) | Recipes
Schokoladenkekse | 3-2-1 Cookies!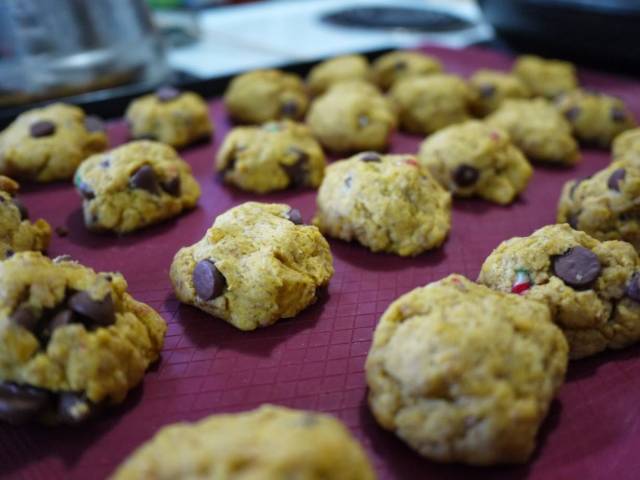 I started baking these cookies in non-vegan form in 2009 while I was in New Zealand. The recipe has evolved over time. It used to be named 3-2-1 because I'd use 3 half-cups flour, 2 half-cups sugar, and 1 half-cup butter, but I've cut back on the sugar.
Current form
Ingredients
Ingredient
Metric
Imperial
Notes - what I use
Sugar
125 mL
0.5 cups
White, or brown.
Fat
125 mL
0.5 cups
Becel vegan margarine
Flour
375 mL
1.5 cups
All-purpose, unbleached; or whole-wheat
Binder
60 – 125 mL
0.25 – 0.5 cups
Pumpkin purée; or some other egg-replacer; e.g. apple sauce, flax meal+water, mango purée
Chocolate chips
60 – 125 mL
0.25 – 0.5 cups
Fair trade Camino semi-sweet, or Enjoy Life
Optional
Baking Powder
15 mL
1 tbsp
Only if you want them a bit puffier.
Flavour
5 mL
1 tsp
Vanilla extract, or almond extract, or mint extract
Steps
preheat oven to 180°C (350°F)
cream the sugar and margarine together
add flour and binder (e.g. pumpkin puree)

mix in half of the flour
add some of the binder (e.g. 1/4 cup) to make it easier to mix
mix in remaining flour and (optionally) baking powder
add additional binder (1/8 – 1/4 cup) as necessary to make it mix smoothly (should get nice that isn't dry and dusty or too wet; experiment)

mix in chocolate chips (and things like vanilla extract if desired)
mix, mix, mix and hopefully it will become a big shiny clump in your mixing bowl with a thousand chocolate eyes; don't leave a chip unattached!
place on pan

I typically grab chunks of dough and roll them into little balls
may want to use a greased pan, parchment paper or, like me, a silicone baking mat (no wasted paper, no extra grease!)

bake for 10-15 minutes, varies by oven (currently I do 14 minutes)

less for undercookies, more for overcookies. ;)
In New Zealand, I could complete preparation in under 8 minutes from opening a pantry door to closing the oven. I'm aiming for 0 minutes for instacookies.
Variants
Cookie Pie and Cookie Cups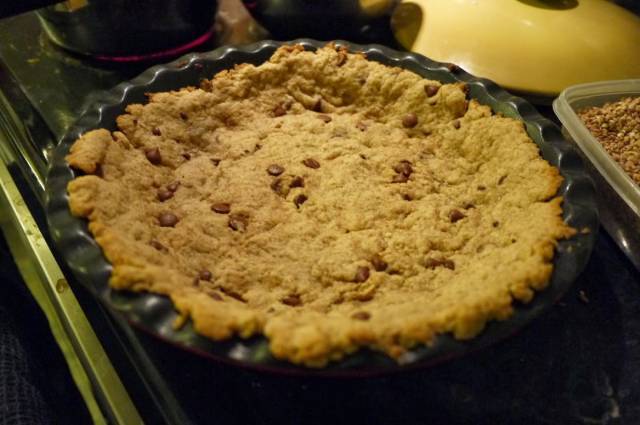 For your pie shell, use cookie dough instead of pie dough to make your shell. You can also use the cookie dough in a muffin pan to make cookie tart shells. Then you can fill them with ice cream and have ice cream cups or ice cream pie.
Cake!
Current form
This recipe originally came from:
http://www.veganbaking.net/recipes/cakes/sponge-cakes/chocolate-cake-2
My changes are mostly in the type of ingredients (and the addition of candy cane)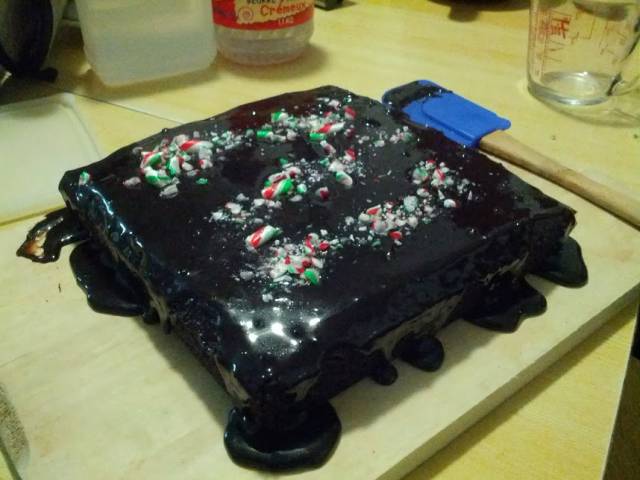 Ingredients
Cake
1¼ cup whole wheat flour
1 cup sugar
⅓ cup cocoa powder
1 teaspoon baking soda
½ teaspoon salt
1 cup warm water
1 teaspoon vanilla extract
⅓ cup vegetable oil
1 teaspoon vinegar
(optional: crushed candy cane (1 or 2 small ones))
Glaze
½ cup sugar
4 tablespoons vegan margarine
2 tablespoons soy milk
2 tablespoons cocoa powder
2 teaspoons vanilla extract
Steps
Cake
preheat oven to 180°C
mix dry stuff with a fork (flour, sugar, cocoa powder, baking soda, and salt)
mix in wet stuff (water, vanilla, oil, and vinegar)
bake for 30 minutes
cool
Glaze
let boil, then simmer for 2 minutes, the sugar, margarine, soy milk and cocoa powder in a sauce pan
remove from heat and sit for 5 minutes, stirring
mix in vanilla extract
Finally
cover cake in glaze
(optional: sprinkle on crushed candy cane)
let sit for ~1 hour
Waffles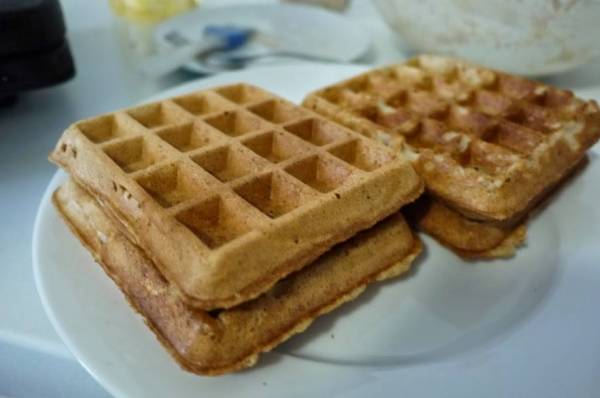 These come from:
http://artofdessert.blogspot.com/2012/12/best-vegan-waffles-ever.html
"Makes about 8 waffles" - I've halved that recipe to actually make 8 waffles
Ingredients
1.5 cups flour
1 tablespoon baking powder
1 tablespoon sugar (optional)
1/4 teaspoon salt
1.5 cups soy milk
1/6 cup orange juice (or water)
1/6 cup vegetable oil
1/2 teaspoon vanilla extract
Optional toppings:
icing sugar, syrup
fresh fruit
chocolate chips (baked inside!)
Steps
Preheat waffle iron
Lightly brush with oil (really, waffles come out so much more easily)
Mix together dry ingredients
Mix in wet ingredients
Pour batter onto iron (consider pouring from a measuring cup, and trying to even it out)
Iron till golden brown
Garnish or whatever
Zucchini Bread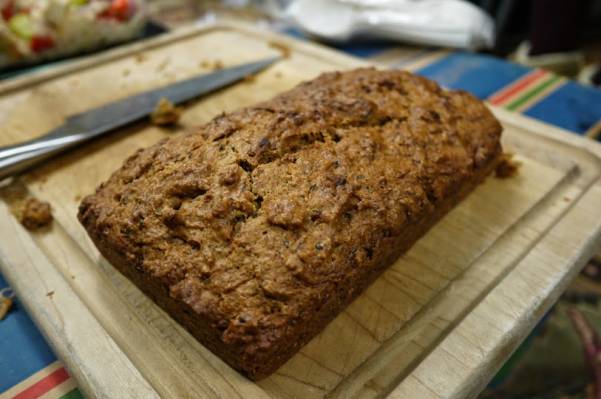 Source: The Spruce Eats: Vegan Zucchini Bread for Bread Lovers, by Ashley Adams. This includes a crumble topping not documented below.
Ingredients
Dry
3 cups all-purpose flour
1 t. baking soda
2 t. ground cinnamon
"Wet"
2 cups white sugar
3/4 cups vegetable oil
1/4 cup soy milk
2 t. vanilla extract
"Zucchini"
3 1/2 cups grated zucchini
Steps
preheat oven to 180°C/350°F, and grease loaf pans
mix dry ingredients together
mix "wet" ingredients together
mix dry and wet together, folding in zucchini
fill pan(s)
bake for 45-75 minutes (for me, longer has been better, in silicone baking trays)
Mug Cake
Source: Nora Cooks: https://www.noracooks.com/vegan-mug-cake/
Ingredients
Dry #1
2 tbsp flour
2 tbsp cocoa powder
2 tbsp sugar
1/8 tsp salt
1/4 tsp baking powder
Wet
1 tbsp oil
3 tbsp soy milk
1/2 tsp vanilla extract
Dry #2
Steps
mix dry ingredients inside a mug (flour, coco, sugar, salt, baking powder)
mix wet ingredients into the mug (oil, mylk, vanilla)
add chocolate chips on top
microwave for ~50s
K-Bel Scones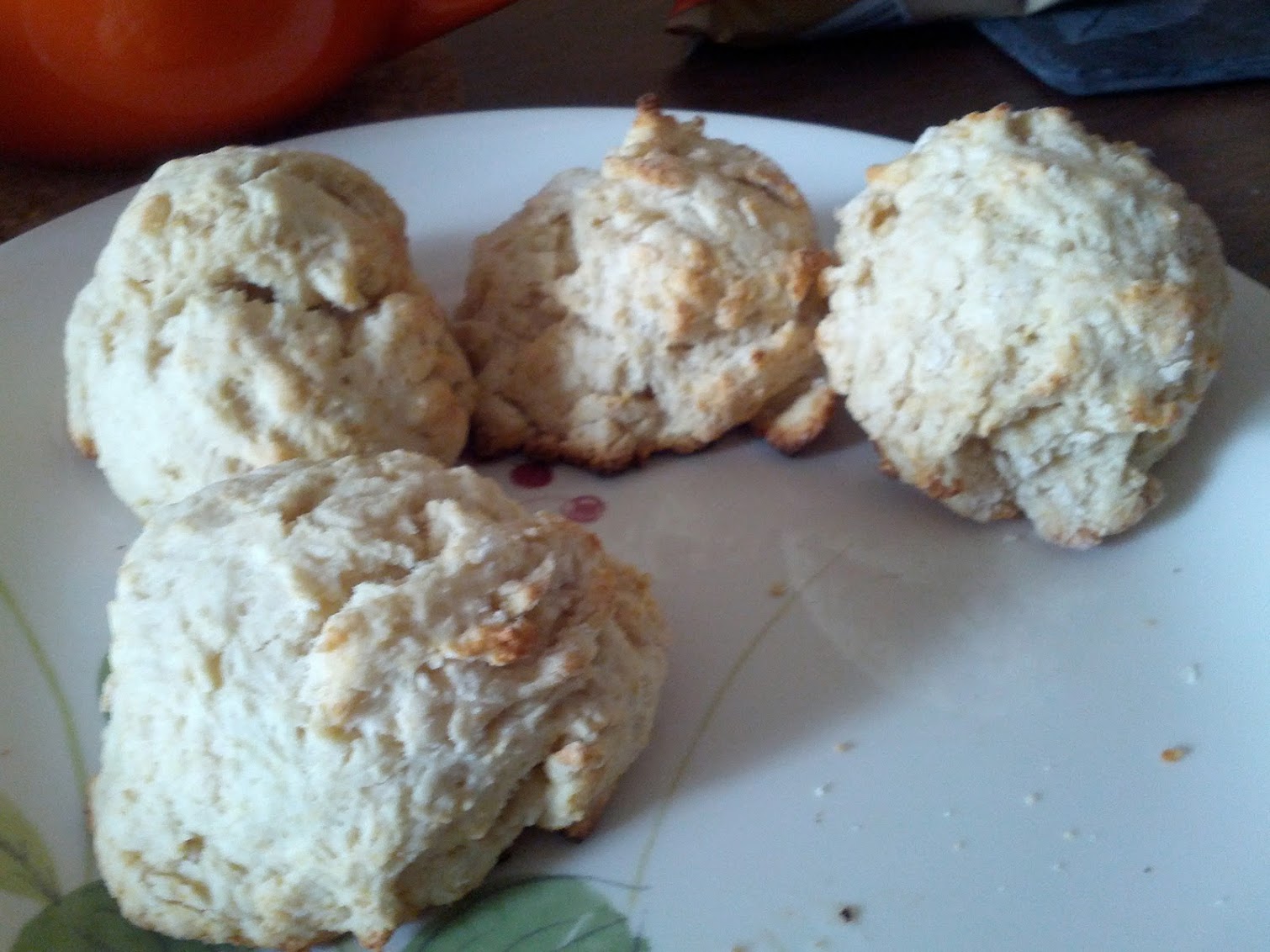 Ingredients
Dry
1.5 cups flour
2 tbsp sugar (brown)
3 tsp baking powder
0.25 cups margarine
Wet
Steps
Preheat oven to 400°F
Mix dry ingredients
Mix in wet ingredients "just until mixed"
Bake for 12 minutes
Vegan FrankenSushi
Credit goes to my friend Frank for providing the following instructions.
Spicy Sauce
30ml (2 tablespoons) sesame oil
30ml (2 tablespoons) Sriracha (Vietnamese hot chili sauce)
10ml (2 teaspoons) soy sauce
Rice
Use sushi rice (i.e. medium or short grain Japanese-style rice).
If the consistency is going to be off, better a little too firm than too soft.
Add the vinegar dressing when the rice is piping hot, so the added moisture evaporates off.
If possible, mix with dressing in a spacious bowl so you don't get mashed rice.
Fan (the most fun part) and let to cool somewhat before using.
If left to sit for some time, do something to prevent it from drying out (e.g. lid or slightly moist cloth).
You can buy "sushi" rice vinegar that has sugar, salt, and sometimes other stuff added (not always vegan) and can be used as-is for dressing. I make my own as follows. It takes some time and stirring and perhaps a few seconds in the microwave to make the sugar and salt dissolve. You can change the proportions to suit yourself. This quantity is suitable for roughly 720 mL rice (measured uncooked).
Rice dressing:
6 tablespoons rice vinegar
2 tablespoons sugar
2 teaspoons salt
Ingredients
Fresh lettuce (washed but no longer dripping)
Avocado (ripe)
Julienned carrots (tossed with a pinch of salt, a sprinkle of sugar, and a small splash of rice vinegar)
Eggs (hardboiled but not over-boiled, and quartered)
Asparagus (tops are best; boiled for 1 minute in water with a bit of salt, and allowed to dry)
Sweet potato (cut like fries, boiled 2 minutes, tossed with a bit of soy sauce and olive oil, and baked to taste)
I've never tried that last; I like sweet potato but the usual deep-fried preparation is hard to do at home. I thought this might be an acceptable substitute. As for other ingredients, you could also try other greens (e.g. arugula) or sprouts. I imagine mushrooms would also be good, but I don't know the best way to prepare them (the method I've sometimes used takes hours). I think sautéed would make them too oily.
As for the process of rolling, I recommend using (very) clean hands to spread the rice, rinsing in a solution of diluted rice vinegar to keep them from getting sticky. As I always say, it should be spread "like freshly-fallen snow", 0.5 to 1 cm thick. Be sure to leave an empty strip at the end of nori that will close the roll, so it will close nicely.
For cutting, I recommend a knife with a blade that isn't too broad, which will get through the rice more easily. I like to wipe it off with a clean, damp cloth between every 1 to 2 slices as well, to prevent it from getting sticky and smushing the rolls.