Schokoladenkekse | 3-2-1 Cookies!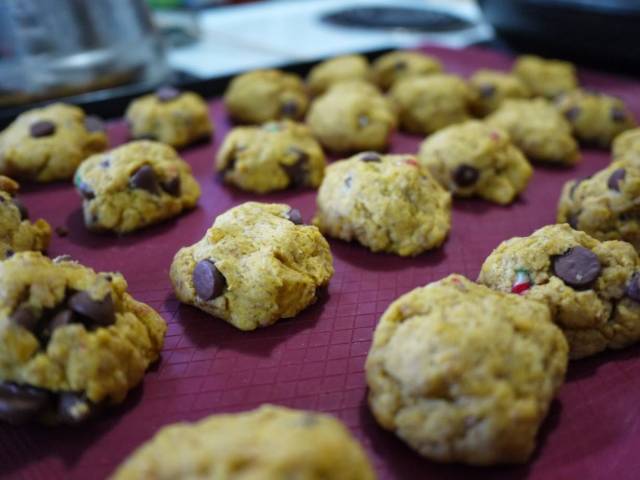 I started baking these cookies in non-vegan form in 2009 while I was in New Zealand. The recipe has evolved over time. It used to be named 3-2-1 because I'd use 3 half-cups flour, 2 half-cups sugar, and 1 half-cup butter, but I've cut back on the sugar.
Current form
Ingredients
Ingredient
Metric
Imperial
Notes - what I use
Sugar
125 mL
0.5 cups
White, or brown.
Fat
125 mL
0.5 cups
Becel vegan margarine
Flour
375 mL
1.5 cups
All-purpose, unbleached; or whole-wheat
Binder
60 – 125 mL
0.25 – 0.5 cups
Pumpkin purée; or some other egg-replacer; e.g. apple sauce, flax meal+water, mango purée
Chocolate chips
60 – 125 mL
0.25 – 0.5 cups
Fair trade Camino semi-sweet, or Enjoy Life
Optional
Baking Powder
15 mL
1 tbsp
Only if you want them a bit puffier.
Flavour
5 mL
1 tsp
Vanilla extract, or almond extract, or mint extract
Steps
preheat oven to 180°C (350°F)
cream the sugar and margarine together
add flour and binder (e.g. pumpkin puree)

mix in half of the flour
add some of the binder (e.g. 1/4 cup) to make it easier to mix
mix in remaining flour and (optionally) baking powder
add additional binder (1/8 – 1/4 cup) as necessary to make it mix smoothly (should get nice that isn't dry and dusty or too wet; experiment)

mix in chocolate chips (and things like vanilla extract if desired)
mix, mix, mix and hopefully it will become a big shiny clump in your mixing bowl with a thousand chocolate eyes; don't leave a chip unattached!
place on pan

I typically grab chunks of dough and roll them into little balls
may want to use a greased pan, parchment paper or, like me, a silicone baking mat (no wasted paper, no extra grease!)

bake for 10-15 minutes, varies by oven (currently I do 14 minutes)

less for undercookies, more for overcookies. ;)
In New Zealand, I could complete preparation in under 8 minutes from opening a pantry door to closing the oven. I'm aiming for 0 minutes for instacookies.
Variants
oats: Substitute in some oats, with ratios up to 1 cup flour:0.5 cups oats. More oats makes it weirder. :)

other egg substitutes

apple sauce: ~0.5 cups

flax meal

(1 tablespoon, with 3 tablespoons water; see

here

)

if you use this, prepare the mixture before doing anything else, as it should have time to sit and mush up before using

banana: 1 (preferably ripe)

egg replacer (typically a mixture with corn starch)

flavouring

cocoa powder
cinnamon
mint extract: 1 teaspoon
vanilla extract: 1 teaspoon
candy cane: 1 or 2 small crushed ones (or one big one); I crush them with a tanrenbo

gluten-free flour: I straight substitute using Selection brand all-purpose gluten free flour from Metro (A&P). They come out a bit dusty (tasty, but you'd want soy milk to wash it down).